"Babies are definitely 'cute as a button' with their sweet little faces and tiny features. In honor of our Baby Theme, this week we challenge you to create a SCRAPBOOK PAGE or CARD using the sketch below. Your project doesn't need to follow the sketch exactly, but it should be apparent that you used it as inspiration. Feel free to turn it on it's side or move elements to fit what you are doing. In addition to using the sketch, we also want you to incorporate STAMPING and BUTTONS (of course!). Project must be newly created for this challenge and must include at least 2 different cuts from any Cricut cartridge to qualify."
This challenge was perfect for scrapping a page of my newest nephew, he is "cute as a button".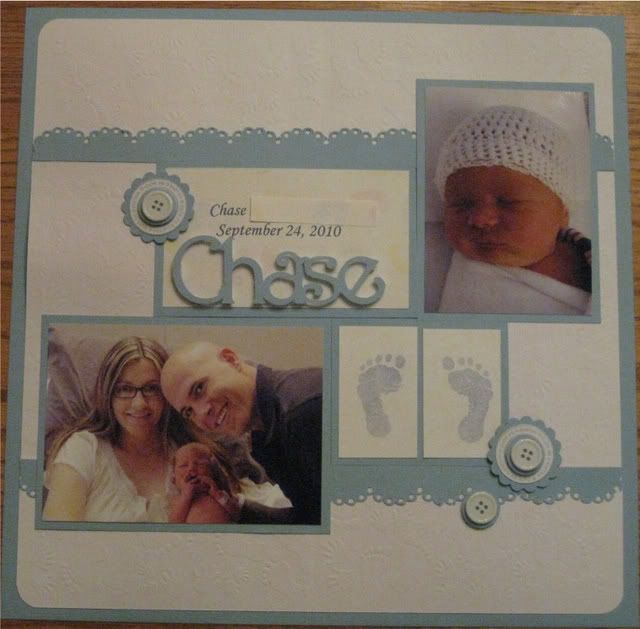 Cricut cartridges used were Mother's Day - Border, 1 1/2"; George Basic Shapes - Circle, 3/4" and Nursery Rhymes - "Chase", 1 1/2". I used Design Studio to weld the letters together for the title, and stretch the border so it measured 1 1/2" x 8" as well as shrink the circles to 3/4". I cut the border in half to make the upper and lower border.
The white background paper was embossed using my Cuttlebug and the Fiskar baby plate. The tiny feet and the white border around the buttons (says "Cute as a button") was stamped with VersaMark ink then chalked with glimmer chalks.