Brrrr! Winter is in full swing over many parts of the country . . . but even if it is warm where you are, you can use Winter-inspired elements to fuel your creative juices on your next Cricut project. We challenge you to incorporate white paint, metal, and a snowflake cut on your project this week.
I chose to do a layout of a Christmas in Tahoe from a couple of years ago, there was snow so it was a little frosty feeling.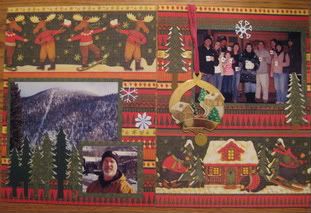 Paper is from Debbie Mumm's Harvest and Holiday 2009 paper pack. The pine tree cuts are from the Camping Out cartridge, cut at 4". White paint was applied to the branches for a snow effect. Snowflakes were left overs from a prior project, I don't remember what carts they are from. The metal element is a brass Christmas ornament I found at a thrift store several years ago. I liked it because it had cabins on it, figured it would come in handy when we spent Christmas at the cabins.