"There are so many fun Cricut cuts available on our cartridges including trees, buildings, backgrounds, flowers and more! For this next challenge, we want to see you utilize these cuts by creating a scene on your project.
The Challenge: Create a project of your choice utilizing your Cricut Cut Images to create a scene! (You are not required to use it, but your latest Circle Exclusive cartridge, Pop-Up Neighborhood, has tons of great images for building a scene!) Your project must include atleast 2 different Cricut Image Cuts.
Rules and Guidelines: Circle Blog Challenges are open to Cricut Circle Members only. You can create any type of project you would like (tag, altered project, mini album, etc.) but your project must be newly created for this challenge and include atleast 2 Cricut Image Cuts."
In 2006 at my sister's 40th birthday party, my then 2 year old niece performed her version of the hula. I chose Life's a Beach to create a scene to scrap these adorable pictures.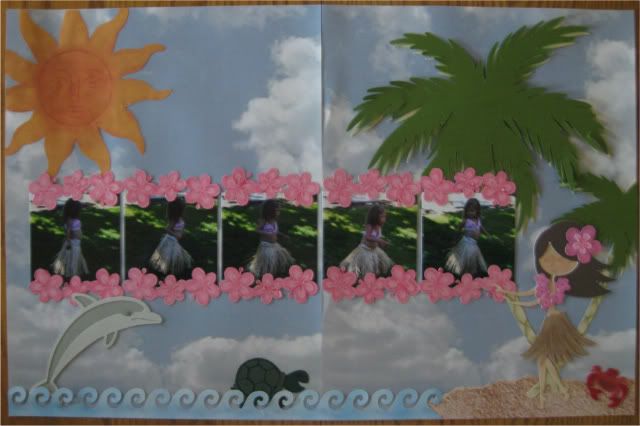 Cricut cuts: Palm trees - 10", Sun - 5", Hula girl - 5", Dolphin - 3", Turtle - 1 1/2", Crab - 1", Wave border - 1", Hibiscus border - 1"
Cuts were highlighted with chalks and SU watercolor pencils.
Here's a close-up of the hula girl.