""Whatevah!" is a phrase a lot of parents of teens hear around their house on daily basis. We thought we'd take that phrase to heart for this next challenge. What we'd like you to do is use WHATEVAH shape you would like, but be sure to repeat it three times on your project. Project must also include spray ink and must be newly created for this challenge."
Here is my "Whatevah" entry:
In a close-up of the butterfly you can see the shimmer of the spray ink.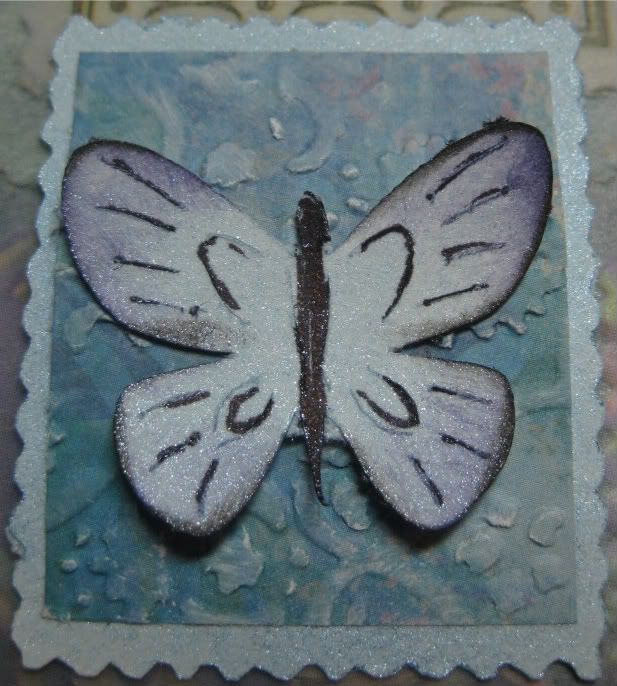 Cricut cartridges used were French Manor for the stamp cut at 1 3/4" and Designer's Calender for the butterfly cut at 1".
The butterflies are inked with purple and black ink. For the spray ink, I used a Ranger spray bottle and filled it half way full with water. I added six drops of Tim Holtz's Sail Boat Blue Alcohol Ink and two scoops (little scope tool in Cricut tool kit) of Forever Blue Perfect Pearls. I sprayed the butterflies and the stamp cuts.
The butterfly background paper is from my scraps. I cut three 1 x 1 1/2" rectangles and ran them through the Cuttlebug using the Textile Texture embossing folder. Using white ink I dabbed it over the embossing.
For the card background, I used K&Company "Floral Stamp" embossed vellum.
Well, I'm a little dingy tonight. My brain just isn't quite working. For some reason I thought by posting to my blog I would magically be entered into the blog challenge. When I realized it, I missed the deadline by a few minutes!